The Hintbox and its features
Our digital reporting channel not only protects companies and organizations from economic damage and loss of reputation, but also preserves the anonymity of whistleblowers. Below you will find further insights into the features and functions, the benefits and more information about our digital whistleblower system, the Hintbox.
Talk to our experts


Buy the Hintbox now or book a demo and be covered for the start of the policy!
Order your Hintbox today and we'll take care of the rest. You will receive your digital whistleblower system within seconds & in time for the start of the directive. So you are well prepared for the implementation of the Whistleblower Directive.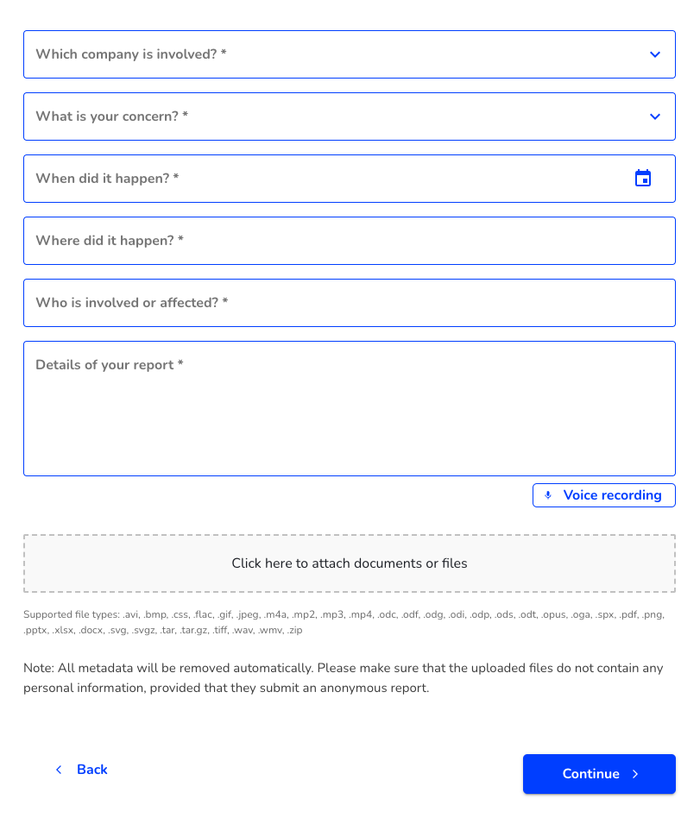 Receive anonymous and personalized reports
With the help of the whistleblower form, you can receive hints easily and confidentially. Reports can also be submitted without problems via smartphone or tablet, because our digital whistleblower system is optimized for mobile hint submission.
Unlimited users
You can add an unlimited number of team members and users to your digital whistleblower system. There is no limit here from us.

Case Management
The integrated triage system evaluates incoming cases and prioritizes them automatically. Compliance officers and case handlers within the company can change the status of the report or the person handling it.
The dashboard of the digital whistleblower system provides an overview of open cases and their status.

Case support with processing steps
Our digital whistleblowing system supports compliance officers and case handlers in organizing the next steps and stores the history of previous interactions. This enables smooth and homogeneous processing of cases throughout the company.
If desired, the processor can inform the reporter about the processing status and the measures already taken with one click in the digital whistleblower system.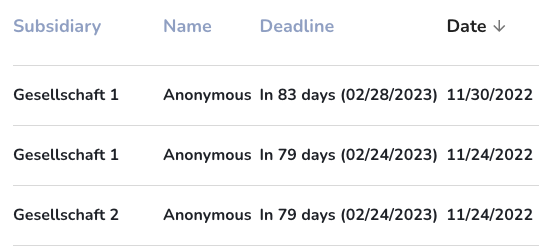 Deadline management
With Hintbox as your digital whistleblower system, you will not miss any deadlines when processing cases. The EU Whistleblower Directive provides, among other things, some deadlines that must be met.
Our digital whistleblowing system actively supports you in meeting deadlines, such as providing feedback to the reporter on the current processing status and several other deadlines.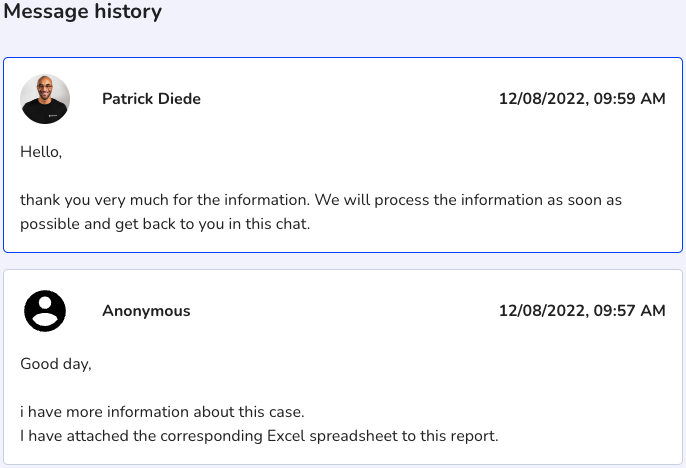 Anonymous dialogue
If the whistleblower decides to submit a report completely anonymously, the digital whistleblowing system still ensures secure and anonymous communication between the whistleblower and the company's compliance officer.
After submitting a hint, login data is generated for the user. With these, the whistleblower can log in to his Hintbox at any time, write messages, upload additional files or create a new report.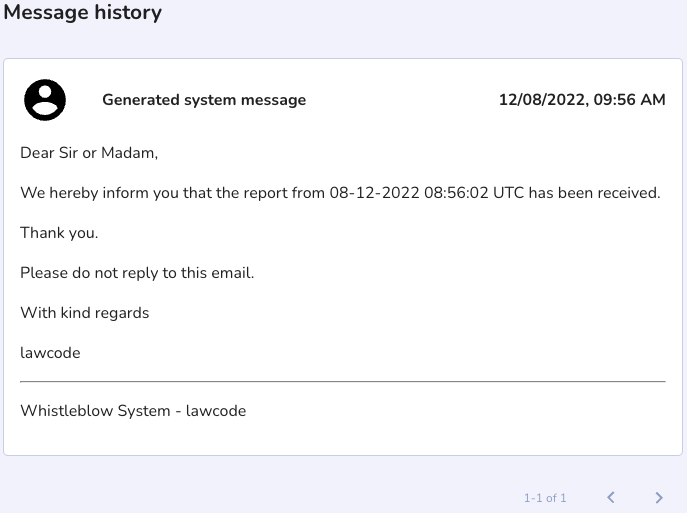 Automated communication
Our digital whistleblowing system handles many parts of the communication between the reporter and the processor. When a report is received, the Hintbox immediately confirms receipt of the report to the reporter. The reporter receives the report immediately in his anonymous mailbox or as an e-mail to his specified address.
Compliance officers and case handlers have the option, among other things, of informing the whistleblower of the status of the case with a single click. The text is prepared by the digital whistleblower system, but can be customized in the settings.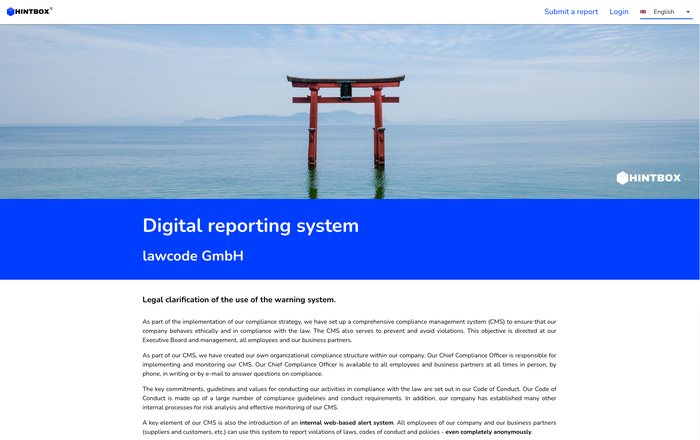 Customizing of texts and interface
Companies can customize our digital whistleblower system as they wish. You can not only store a company color and logo.
Also, any legal texts, notification emails and texts can be edited and customized when creating a report.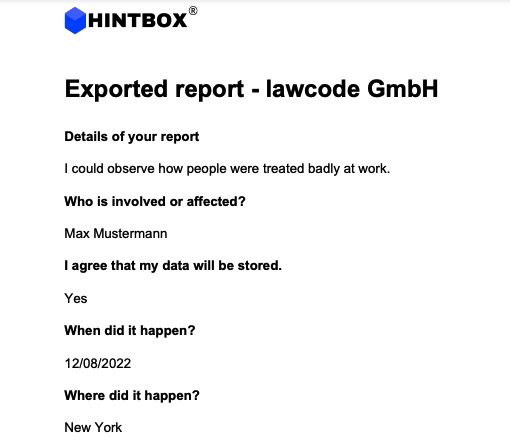 PDF export of the reports
If you want to archive individual reports locally or forward a report to additional people who do not have access to our digital whistleblower system, you can export reports as PDFs with just one click.

Multi-client capability
Groups of companies can add additional subsidiaries in the digital whistleblower system. When submitting a report, whistleblowers can then select a specific entity to which the reported violation applies. Within the dashboard, compliance officers can view the company and process the cases of this company.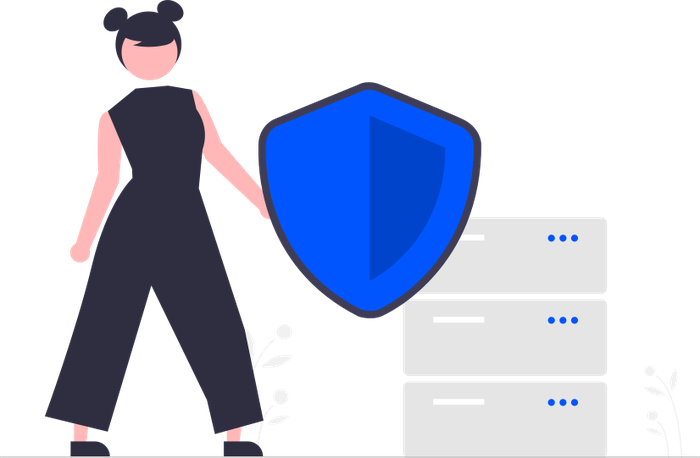 Virus scan & metadata removal from uploaded files or documents
The uploaded documents and files of the whistleblowers will be scanned for viruses. If a file is infected, you will receive a notification within the notification that this file is infected. During metadata removal, so-called localization points and device information are checked and then removed before encryption.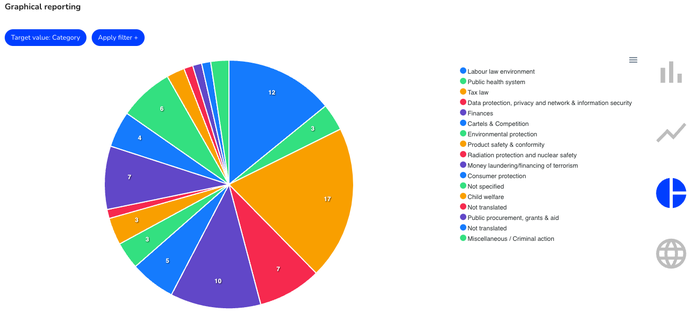 Graphical evaluations
You can create a graphical evaluation of your received notices at any time. For this purpose you can use our simple view of the graphical evaluation, here you can apply further filters and also select other views. In addition, you can also export the evaluations as an image, Excel or PDF document. Thus, you have all the tools for your reporting at hand.
Assignment of access rights
In the digital whistleblower system, companies can control the access rights of managers and agents to companies and cases. This allows companies to specify, for example, that local compliance officers only have access to a specific company. Similarly, authorizations can be assigned based on categories. This makes it possible for only certain people to see the notification of a specific category.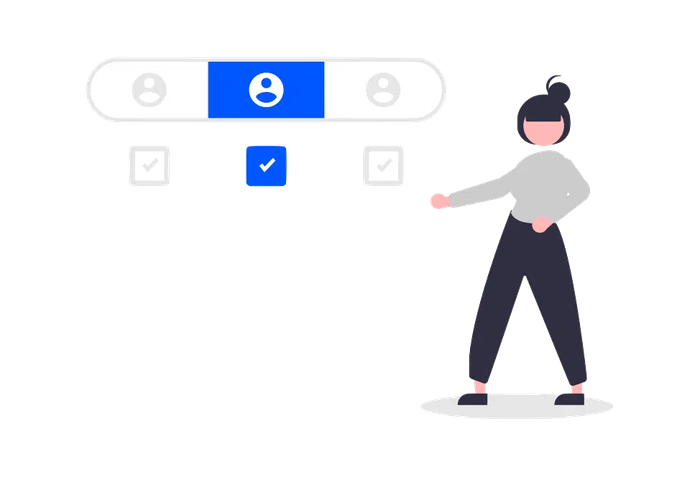 Involve external persons in case processing
The digital whistleblower system allows case handlers to invite external persons to a specific case. This means, for example, that external consultants, such as lawyers or data protection officers, can gain access to a case without having to export the cases separately from the digital whistleblower system. Furthermore, companies can define which contents of the report the reader is allowed to see and which not (granular rights assignment).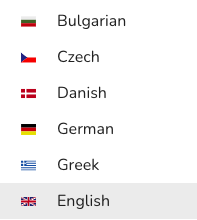 Multilingualism (30 languages)
Our digital notice system is available in English, Spanish, German, Dutch, French, Italian, Polish, Russian, Portuguese, Romanian, Bulgarian, Chinese, Danish and many more. Other languages can be easily added upon request.
Not only is the digital whistleblower system fully translated into languages, but companies have the ability to customize individual legal texts in different languages.
Automatic translation function
Compliance officers can have reports from whistleblowers automatically translated in the digital whistleblowing system using the translation function (over 30 languages). This eliminates the need to export the reports separately.

Live chat
To facilitate collaboration, there is the option of a live chat within a notification. This way, the communication can happen completely in the Hintbox and all processors of a case can follow it and are up to date.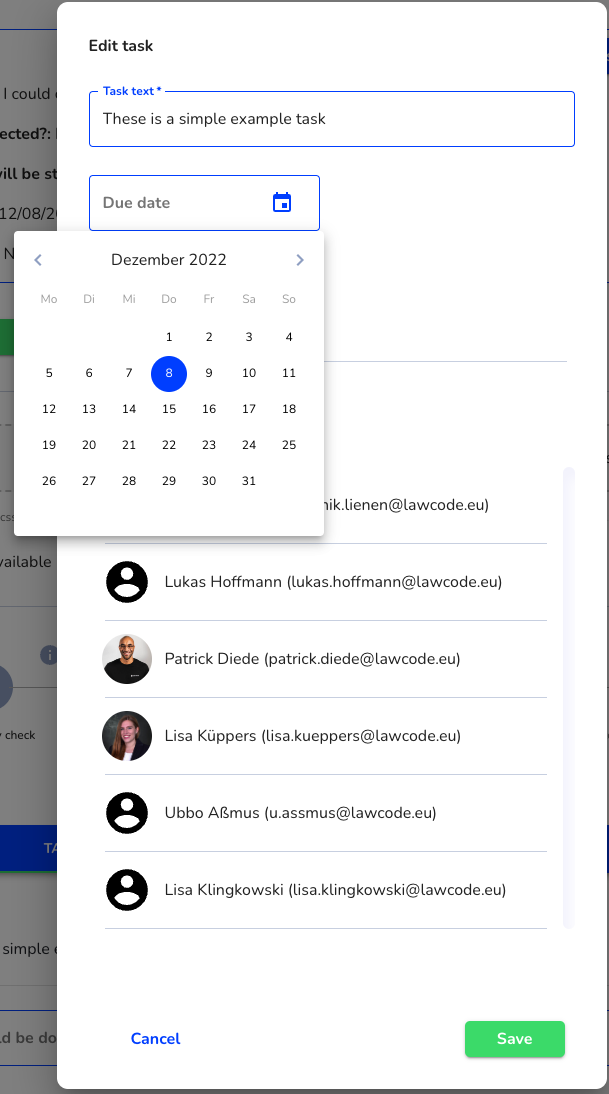 Dynamic task distribution
With the dynamic task distribution, tasks can be created within a note and provided with an agent and a due date. To signal completion of the task, it can be checked off. This makes it much easier to process a case with several people, as task packages can be created and assigned here.
Receive hints by phone bot in the hintbox (optionally available)
We configure a personal phonebot that is available to your whistleblowers at any time to receive the tips by phone. The phonebot is linked to your hintbox, so all received hints are available in the hintbox for processing and documentation.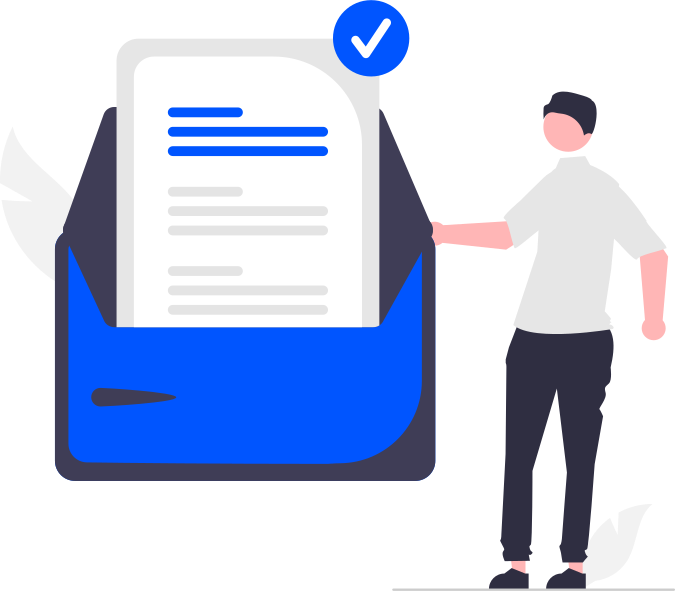 Receive hints by e-mail in the Hintbox (optionally available)
We configure an email address that is linked to your Hintbox. This way, your whistleblowers can also submit tips via email, ready for your compliance manager to process and document.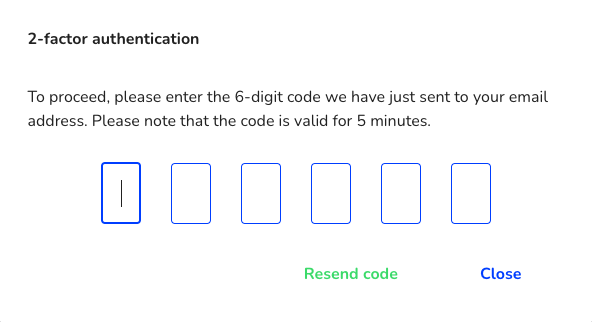 2-factor authentication
With 2-factor authentication, you additionally secure your account with the digital whistleblower system. When you log in, a unique code is sent to your e-mail address, which you can use to confirm your login. This means that your account is secure, even if attackers have obtained your access data.
The 2-factor authentication also takes effect for critical change actions within your account, such as changing the email address or password.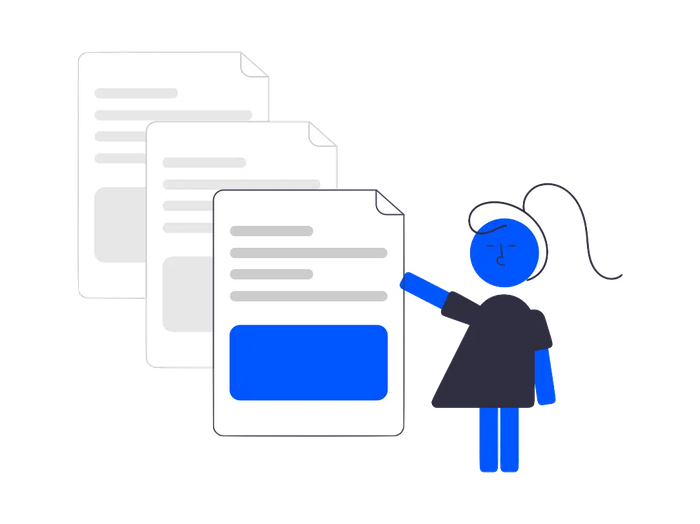 Revision security
All processing steps of the compliance officer are logged in the digital whistleblower system in an audit-proof manner. This ensures that changes and the processing steps of the case are audit-proof and traceable in an index.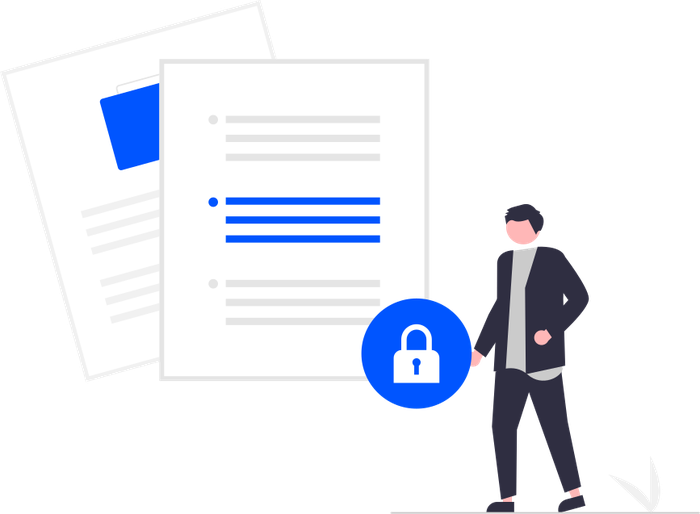 End-to-end encryption
All data and all communication between the whistleblower and the compliance officer are fully encrypted end-to-end via the digital whistleblowing system. This is the only way to ensure confidentiality and rule out the possibility of unauthorized persons gaining access to the report.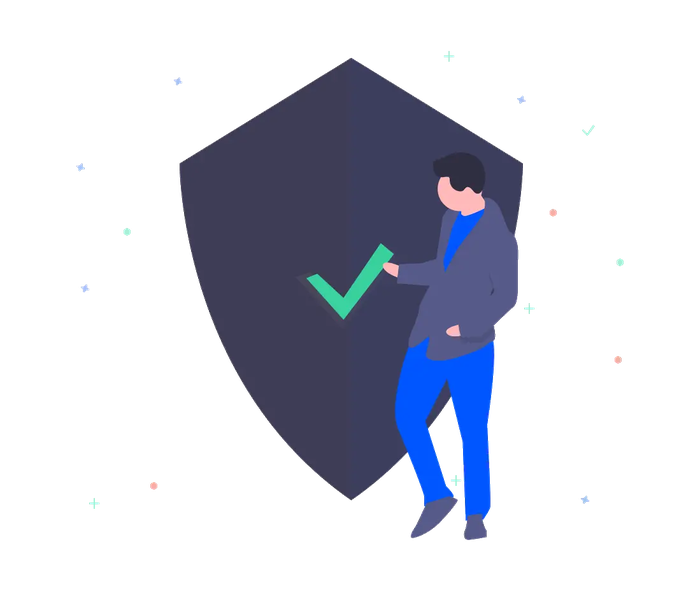 GDPR and security compliant
Our digital whistleblowing system offers companies and public authorities the highest possible level of data protection. In addition, information is comprehensively protected by our ISO 27001 certified Information Security Management System (ISMS).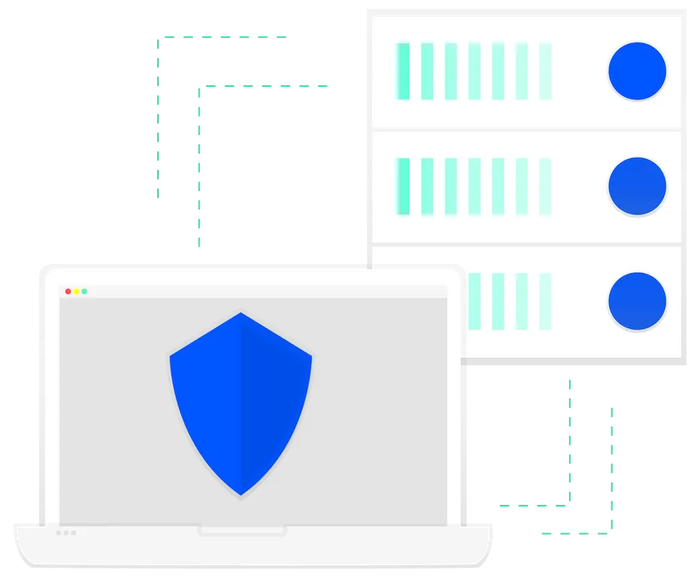 ISO 27001 certified hosting in Germany
Our customer instances are also hosted exclusively in a German and ISO 27001-certified data center. Since data protection is important to us, each customer receives its own independent digital whistleblower system and the data is stored and processed separately per customer.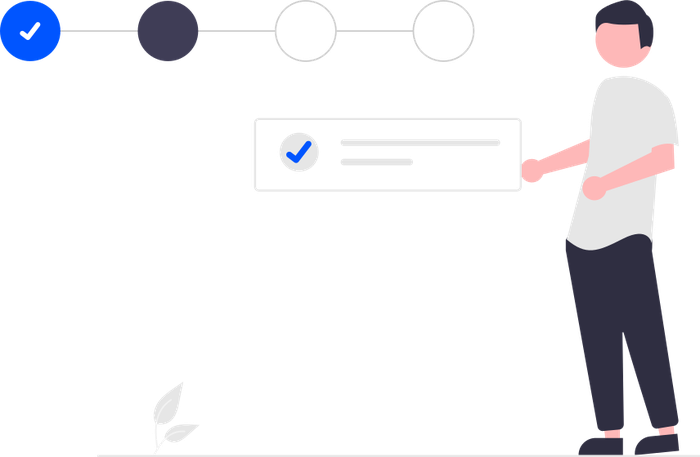 Dynamic form
Configure the whistleblower form yourself according to your wishes and specifications. With our dynamic form, you can customize the form on a no-code basis. This also allows you to create different forms. For example, this allows you to comply not only with the EU Whistleblower Directive, but also with the Supply Chain Act.
The Hintbox for different target groups
With the enactment of the EU Whistleblower Directive (2019/1937), a whistleblower system will be mandatory in companies with 50 or more employees and all legal entities under public law from December 17, 2021. Therefore, a digital whistleblower system is of interest and great importance for managing directors, board members, IT specialists, data protection officers, lawyers and a wide range of other professional groups.
But a digital whistleblowing system is only legally compliant if all legal requirements are met. In terms of data protection and cyber security, we implement the highest standards in our digital whistleblower system that go beyond legal requirements: Isolated data storage, multiple data encryption, 2-factor authentication at login, and metadata removal are some of the security features in our digital whistleblower system.
By guaranteeing the aforementioned safety functions, a secure basis is created for all users.
Important functions of the Hintbox for executives and managers: Conformity and usability of the reporting channels

Nowadays, there is hardly any way around completely focusing on the customer when developing products and offering services - whether B2B or B2C customers is irrelevant. Customized products that are highly usable from the customer's perspective sell best. Managing directors and other key managers in companies therefore implement this in their corporate management on a daily basis.

When purchasing a digital whistleblowing system, usability therefore plays an important role for managing directors and department heads: Does the digital whistleblowing system meet all the important needs of employees, suppliers, business partners and customers? Is it clearly structured and easy to use?

Our digital whistleblowing system meets all requirements for a user-friendly interface with a clear dashboard and clear functions. The digital whistleblower system is easy to use for the compliance officer, who can immediately see all new cases currently being processed and closed cases, including the due date. This means that no more deadlines are missed. At the same time, the compliance officer can manage the cases quickly and easily through the integrated case management and report from the digital whistleblowing system.

An easy-to-complete, policy-compliant form is available for employees, suppliers, business partners and customers to submit notices.

At the same time, the digital whistleblower system is fully compliant with data protection and meets all legal requirements.
Hintbox: Anonymity and quantity of reporting channels for employees, suppliers, business partners and customers.

The anonymity of the digital whistleblower system is prescribed by law and is also the most relevant criterion from the employee or whistleblower perspective. If anonymity is guaranteed, the next criteria are the number of reporting channels and their usability.

Our digital whistleblowing system offers your employees, suppliers, business partners and customers three reporting channels: Digitally via Hintbox whistleblower form, via a telephone hotline, or via email. A high number of reporting channels encourages whistleblowing, as each reporting channel has specific benefits. For example, digital notification of legal violations via the Hintbox whistleblower form generally enables simple and fast whistleblowing, with complete anonymity.

Complete anonymity is even possible with our digital whistleblowing system in the e-mail reporting channel: Here, special e-mail addresses for whistleblowing are provided by us and thus externally, so that companies cannot identify the whistleblowers.

In terms of usability, 24/7 availability of the telephone hotline. A time barrier-free contacting of the telephone hotline is offered in a user-friendly whistleblower system. In the digital whistleblower system of HINTBOX, this is done via a telephone bot that discreetly records the reports.

When it comes to the usability of the dashboard, the focus should be on enabling whistleblowers to write a legal violation report directly with one click after logging in. In our digital whistleblower system, for example, this is done via the "Submit a report" button at the top right. Users can then formulate and submit their report. They will be informed by the digital whistleblower system that their report has been received. Via the message history, it is subsequently easy to respond to queries and provide further information on the submitted report via an anonymous dialog.
Functions for IT professionals: cybersecurity and harmony with other systems

IT professionals in a company, like the board members, managing directors and employees, place a high value on the user-friendliness of the digital whistleblower system. However, their focus is primarily on the IT security of a digital whistleblower system. Our information security management system is ISO 27001 certified. In this respect, Hintbox offers the legally required encryption of personal data in accordance with Art. 32 (1) a) GDPR. State-of-the-art encryption technologies such as TLS encryption (Transport Layer Security) and end-to-end encryption are some of our means to this end. Highly secure data hosting via an ISO/IEC 27001 certified data center in Germany strengthens cyber security for the digital whistleblower system. You can find out more about IT security and data protection in this article.

The implementation of the digital whistleblower system does not require any IT effort. The Hintbox is an off-premise solution, which means we provide you with the Hintbox simply, quickly and securely. Other features of the Hintbox that reduce the amount of work IT professionals have to do on the digital whistleblower system include:

PDF export of reports integrated in the basic functions of our software;
automated communication;
Multi-client capability for corporations and business groups with easy setup of new companies;
and assigning access rights with just a few clicks.
Functions for data protection officers and legal professionals: Comprehensive case management

Compliance officers, attorneys, data protection officers and comparable professional groups are professionally confronted with legal violations within companies. Accordingly, there is a potential multitude of cases to be handled; an option for multiple case management in the digital whistleblower system is therefore a particularly important function.

From this point of view, the integrated triage system in the digital whistleblower system from HINTBOX proves to be advantageous: The incoming cases are automatically evaluated and prioritized. Via the dashboard, the open cases and their status are immediately visible.

Our deadline management and case support with processing steps are helpful in the processing of cases. As part of the processing steps, all previous interactions are saved in the digital whistleblower system, which makes it possible to continue processing cases smoothly - even after a break of several days or weeks.

In addition, external persons, such as lawyers, can be called in to cases by invitation without much effort.

Would you like to learn more about our digital whistleblowing system? Then get in touch with us.
Would you like a no-obligation consultation or more information about the Hintbox?
Then make an appointment with our experts or call 0261 988 03 700